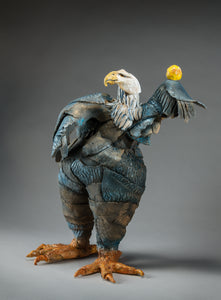 Paper clay finished with stains, glaze and acrylic paint
Totem: Eagle Woman
Cycle of Power: Daylight - All Seasons
Illumination of Spirit, Healing & Creation; Messengers from Heaven (Sun) and Connection to Earth; Visionaries. Bald eagles represent the feminine.
TOTEMS
In Native American cultures, the TOTEM is any natural object, being or animal whose energy is manifested and aligned within our lives. They are magical creations, symbolizing nature's force of life inherent in all things. 
Birds, symbols of the soul, stimulate greater flights of hope, inspiration and ideas.
LOCAL PICK UP
Purchased works can be picked up at the gallery during regular business hours and by appointment after the close of the show on February 27, 2022.
SHIPPING
For a shipping quote please email nizak@mac.com with the name of the piece you are considering and your shipping address. Pieces will ship after February 27, 2022.