Welcome to Niza Knoll Gallery!
An art gallery located in the popular Art District on Santa Fe in Denver, Colorado at 915 Santa Fe Drive.

REGULAR HOURS
Thursday - Sundays, 1-4 pm
Except for during special events:
First Friday of Month 5-9 pm
Third Friday of Month, 5-8 pm,
Sundays on Santa Fe Art Walk, Last Sunday of the Month 11am - 3 pm
Niza Knoll Gallery has been open since 2009 and actively participates in First Friday, Third Friday and Sundays on Santa Fe Art Walks. Past exhibits have included unusual artist pairings, outsider art, collaborative work and thought provoking thematic exhibits. We also host private concerts and guest speakers in conjunction with these events. Check the schedule for upcoming shows.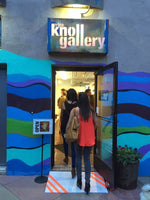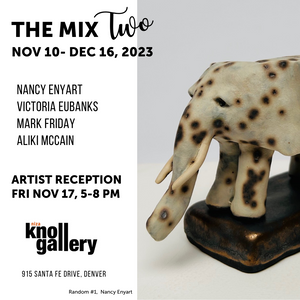 The MIX, TWO
Nov 10 - Dec 16, 2023
Nancy Enyart, Victoria Eubanks, Mark Friday, Aliki McCain
The MIX
The back of the gallery houses The Mix Co-Op with 8 artists. Art is available to purchase in the gallery and online!
Learn more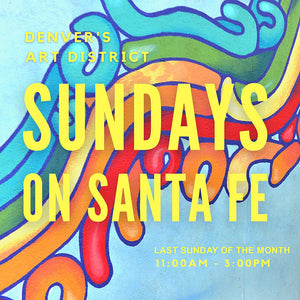 Sundays on Santa Fe
Sundays on Santa Fe are now happening all year long on the LAST SUNDAY of EACH MONTH starting in 2023. You can gallery hop, boutique shop, and explore the Art District with the entire family from 11 am - 3 pm!
More info