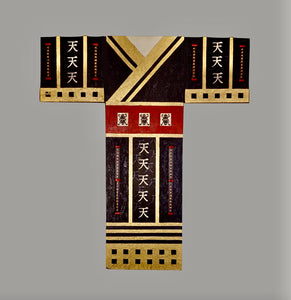 Artist: Pat Lickly

Medium: Mixed Media

Size/Measurement: 32" x 36" x 1.5"

Description: 3 connected canvases, black, red, gold metallic acrylic, ceramic, wood, and clay

Weight of piece: approx 5 lbs.

LOCAL PICK UP
Purchased works can be picked up at the gallery during regular business hours and by appointment after the close of the show on May 8, 2021.
SHIPPING
For a shipping quote please email nizak@mac.com with the name of the piece you will be purchasing and your shipping address. Pieces will ship after May 8, 2021.