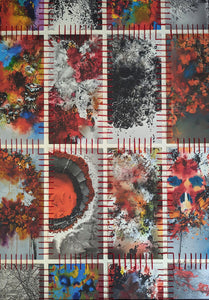 Medium: AI generated images, archival paper, embroidery thread
Size: 14 x 20 inches
Year: 2023
 

ARTIST STATEMENT
I am a visual artist enamored with the alchemy of mark-making.  I play with a variety of mediums in my work, exploring death/rebirth cycles and creating space for transformation through honoring the truths in loss, mortality, and inevitable change. These thematic threads consistently weave throughout my artwork, while their physical manifestations can include drawing, painting, mixed media, sculpture, performance, and now, AI-generated imagery.  
Through the alchemy of using my old artwork as a medium in creating new art, I tend to the loss of beliefs, patterns and connections; giving myself grace to build from the ashes anew.  This was my first experience using a digital medium as a tool in transforming my work through this artwork alchemy process.  I chose to work with the AI program, Runway, which allows for image to image creation.  By uploading a picture of my original painting, along with numerous text prompts describing artistic direction and/or conceptual themes pertaining to death/rebirth cycles, grief, and transformation, the AI produced many images in response - sixteen of which I chose to include in the final piece.
While I am very familiar with the experience of watching my old art transform into a completely new work, the sheer volume of rebirthed compositions was striking; a rabbit hole that easily could have yielded hundreds of unique images all stemming from my single original painting if I wanted.  This expediency in generation, coupled with a constant degree of unknown in exactly what the AI would create, made experimenting with Runway quite engaging.  Similar to glazing in ceramics, even if you've used that particular glaze mix before (the same starting image and similar text prompt) you never quite know what you're going to get until it comes out of the kiln.
LOCAL PICK UP
Purchased works can be picked up at the gallery during regular business hours and by appointment after the close of the show on September 24, 2023.
SHIPPING
For a shipping quote please email nizak@mac.com with the name of the piece you are considering and your shipping address. Pieces will ship after September 24, 2023.