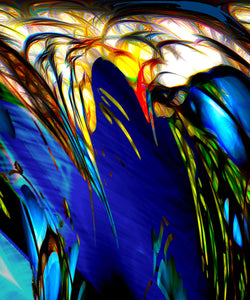 King Fisher - A.I. Abstraction
Original Photo: 11'x14" – Printed on archival photo matt paper.
Click here to see AI Abstraction

The African Striped Kingfisher photo, transformed by AI into an abstraction, is a mesmerizing symphony of vibrant colors and geometric patterns. The AI's algorithm has skillfully distilled the intricate details of the kingfisher's plumage into a kaleidoscope of abstract shapes, seemingly dancing with each other in a harmonious rhythm. The once-familiar bird now takes on an otherworldly aura, evoking a sense of wonder and mystery. The melding of the natural world and AI-driven abstraction serves as a captivating reminder of the boundless creativity that arises when technology meets the beauty of nature. It challenges us to perceive the world through a new lens, where art and science coalesce into a mesmerizing vision of the extraordinary.
Written by AI (ChatGPT)
ChatGPT Input: Write a short paragraph explaining the African Striped Kingfisher photo using AI becoming an abstraction
LOCAL PICK UP
Purchased works can be picked up at the gallery during regular business hours and by appointment after the close of the show on September 24, 2023.
SHIPPING
For a shipping quote please email nizak@mac.com with the name of the piece you are considering and your shipping address. Pieces will ship after September 24, 2023.