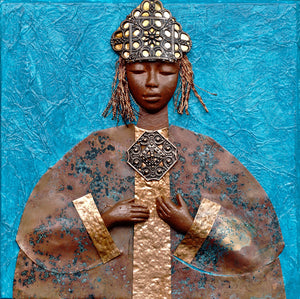 Click here to purchase 2 or more Serenity Figures for $85 each.
Artist: Pat Lickly
Medium: Mixed Media on hardboard
Size: 6" x 6" x 1/2" D
Description: Acrylic, Clay, Patinated Copper, Paper, Embellishments
Weight of Piece: Less than 1 lb
LOCAL PICK UP ONLY AVAILABLE UNTIL FURTHER NOTICE.
Pick up on Fridays and Saturdays, 1-5 pm or by appointment.