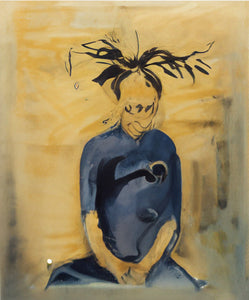 Untitled, Derivative Version, Tyree Jones, 2023
11"x14" (16"x 20" Framed)
AI used: Photoshop's Generative Fill
Description: A blue painted figure looks down.
ARTIST STATEMENT:

My artwork observes the human relationship with technology, and how it intricately weaves itself throughout our lives. With these two pieces, I explored the capacity for emotional dialogue that is achievable through AI. AI has appeared capable of mimicking  minute details of the human experience, and has emerged as a powerful technological advancement. Because of this, I chose to use AI to explore an arena that is deeply and uniquely human: emotion. In order to do this, I created a derivative version of a visually and ambiguously emotional piece (Untitled). By using Photoshop's Generative Fill, I was able to create a direct interpretation of Untitled from AI with the least amount of manipulation possible. This work questions whether the derivative version solely mimics what it was given, or if it has channeled our experiences to provide a distinctive, and technologically emotional response. Being that emotion and its intricacies are valuable only to humans in this relationship, this work makes it the viewer's choice to decide whether or not the AI's response is valid. The work questions how entwined we have become with technology, and how AI will impact our future.
________________

LOCAL PICK UP
Purchased works can be picked up at the gallery during regular business hours and by appointment after the close of the show on September 24, 2023.
SHIPPING
For a shipping quote please email nizak@mac.com with the name of the piece you are considering and your shipping address. Pieces will ship after September 24, 2023.